We have author Rachael Thomas talking about
Beating the Block.
She has a new release,
The Sheikh's Last Mistress.
She also has a Kindle copy giveaway for one commenter!
Connect with Rachael Thomas on the web:
Beating the Block
Writers block is something which all writers encounter at some point. It is whatever brings your creativity to a grinding halt. But how can you overcome it?
The Blank Page
There is nothing worse than looking at your computer screen and seeing a completely blank page, devoid of anything except that blinking cursor. The blank page might be right at the start of your latest work in progress, preventing anything getting on the page or it might be at the beginning of the next chapter in your book, but wherever it is, it's not a nice experience.
When you come up against the blank page give yourself permission to write something that isn't perfect first time around. Write anything, type it in a different colour or font to mark it in your mind as words just for now. But write something.
If this doesn't work, take a break from the screen and go back to paper and pencil. Take yourself somewhere else and try to write for at least ten minutes or a few paragraphs.
I also find that a walk and a complete break from the screen helps to unlock my mind. Sometimes the block can be serious and you may need to take a day or two away from your work and then doing things you enjoy, things that will refill your creative well, are a must.
Small Ideas
Sometimes it's just not the right time to write that idea. You need to push it away, either physically filed as a brief outline or wrapped up and put away in your mind. Whilst it's away it will grow and when you next approach that idea you will be ready to write instead of facing the demon blank page.
If you have a friend you can sound ideas out with then go for it. Bouncing ideas off someone else takes you down a different path than the one you could be stuck on and even better, can unlock just what it is that is needed to turn your small idea into a bigger one.
Doubting Yourself
If you are going to make it as a writer you have to let go of your doubt or your fear that you will be good enough. Like any craft, writing improves the more you do it. Believe in yourself and your work; give it the importance it needs. Don't hide yourself away not telling anyone what you are doing. Tell your friends and family. Just by saying it aloud to someone you will be helping to kill off those monsters of doubt which lurk on all writers shoulders ready to create a block.
My tips for getting writing again
Reach for a pad and pencil.
Set a timer and just freewrite – write anything and everything as it comes into your mind.
Music is a great stimulant for the mind. Play some background music or sit back and listen to the lyrics for a while.
Bounce ideas off friends.
Take time out. Go for a walk or read a book.
Keep your creative well topped up.
Accept that first drafts are never perfect.
Believe in yourself.
Rachael Thomas's new release:
The Sheikh's Last Mistress
Destiny Richards knows she is playing with fire when she accepts charismatic Sheikh Zafir Al Asmari's job offer, but it seems like a fair price to pay to start her life over again. Until the temperature reaches the boiling point and Destiny finds herself spending one out-of-this-world night with the sheikh!
When powerful Zafir seduces English rose Destiny, he never anticipates she'll hold the title of his Last Mistress. But their scorching affair has shocking repercussions. Now, before their nine months are up, Zafir must convince Destiny to make their arrangement more permanent!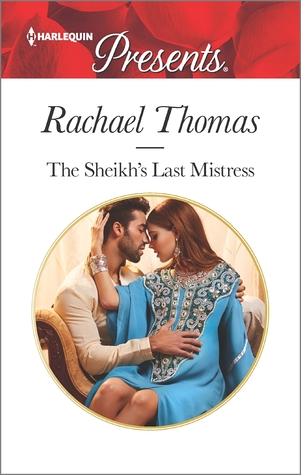 Enter Giveaway